Extendicare at your fingertips
Find out what's happening at Extendicare West End Villa. Don't miss anything. Check in regularly.
Blog Archives
2021 2020 2019 2018 2017 2016 2015
EXTENDICARE BREAKS GROUND ON NEW LONG-TERM CARE HOME IN KINGSTON
Posted: 2021-07-27

New home built to modern design standards will enhance privacy and improve quality of life for 192 residents.
COVID-19 Testing Program Marks One Year of Making Long-Term Care Homes Safer
Posted: 2021-06-01

Extendicare pilot paved the way for a standardized approach to protecting homes through frequent surveillance testing. One year and 285,000 PCR tests as well as 280,000 rapid tests later, program is still making a difference.
As we turn this corner of the COVID-19 pandemic, the future looks bright
Posted: 2021-05-31

In long-term care, we are witnessing a turning point in our battle with COVID-19.

We have seen a dramatic decline in the infection rates experienced by Extendicare long-term care homes and Esprit retirement communities and new outbreaks are now a rarity. Despite the significant challenges we faced during the past 18 months, the future of the seniors' care sector is bright.

As we continue to focus on keeping people safe, and maintain vigilance in our fight against the virus, we are also looking ahead, driven by our mission to create a better future for seniors' care in Canada.
Long-term care is in a safe position to step up and help
Posted: 2021-04-27

Extendicare's partnership with The Ottawa Hospital will provide transitional care to patients in need

BY DR. MATTHEW MORGAN

A cursory glance at the news over the last couple of weeks will tell you there is a serious situation in Ontario's hospitals.

The third wave of COVID-19 has put considerable strain on Ontario's health system. For the long-term care community in Canada, it feels all too familiar – with staff overstretched, burnt out and getting sick themselves, and a shortage of staff to replace them.
Giving Back to Long-Term Care Heroes | A year into pandemic fight, Extendicare renews investment in Senior Living CaRES Fund
Posted: 2021-03-22

More than $2.3 million has been awarded to 679 senior living workers across Canada. Applications are open again to help even more heroes

—

A year into this pandemic fight, as the shape-shifting COVID-19 virus adapts and evolves, the care providers in our homes have only shown more resolve.

At Extendicare, we continue to be humbled by those on the frontlines — the love, sense of duty and responsibility, the dedication and professionalism. On top of the hard work, and heartbreak, there is heroism, determination and clear, unrelenting focus.
Building on Lessons and Remaining Vigilant
Posted: 2021-03-15

As we continue to immunize residents and staff against COVID-19, there is growing optimism across long-term care communities that there are better days ahead and an eventual recovery from the global pandemic.

There have been tragic losses suffered over the past year, and extreme hardships endured by residents, clients, families and staff. However, the arrival of vaccines and the use of rapid point-of-care testing in our homes are reasons for hope.
Inspired to Take Care, No Matter What's Needed | Meet Sharon Johnson, Health Care Aide, ParaMed
Posted: 2021-03-12

Inspired to Take Care, No Matter What's Needed

Sharon Johnson is a lot of things to a lot of people.

As a Health Care Aide, she can be a smiling face on a tough day or a comedian with a joke on hand. Sometimes she's the person who can open the water bottle and make sure breakfast is ready. Most days she's a lot of these things.
International Women's Week Continues: Meet Nermen Helles, Director of Care, Extendicare Halton Hills
Posted: 2021-03-10

Leading — and 'Living For' — Connections and Care

No day is the same for Nermen Helles — except for one part.

When she starts each shift at Extendicare Halton Hills, she completes a full round of the home, waving to hello to every resident along the way. When they smile and wave back, "it's the most beautiful thing that can happen in the morning."

Nermen is the home's Director of Care. It's her job to manage and make sure that residents are getting what they need, that staff have what they need to deliver it, and that families are up to speed about it all.
The Frontline is Female: Leading a Workforce of Women Past the Pandemic
Posted: 2021-03-08

The driving force in Leslie Sarauer's work is to make an impact.

The Senior Vice President and Chief Human Resources Officer joined Extendicare early in 2020 with exactly this in mind. In her line of work, she makes an impact through people.

"I wanted to find an organization that really needed me," she said. When COVID-19 arrived in Canada, that need was clear, for people across every level of seniors' care.

She shares her purpose in common with her colleagues on the front-line of long-term care, home care and retirement homes, with women representing a full 88 percent of Extendicare's workforce.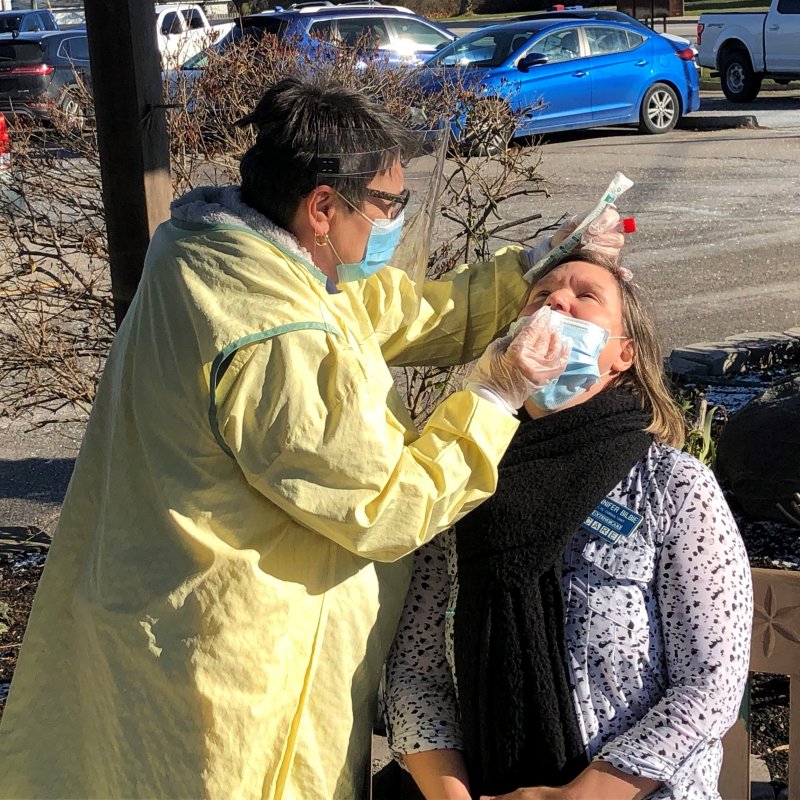 Extendicare Long-Term Care Staff Testing Program continues to protect Ontario's residents
Posted: 2020-11-23

The COVID-19 pandemic hit long-term care homes hard around the world. It's an aggressive virus that poses a huge risk to us all, but especially to the health of seniors.

Extendicare moved quickly in early 2020 to secure personal protective equipment supply lines and establish protocols with public health officials to protect the people we care for. Informed by our experience in the first wave of the pandemic, we knew we had to get ahead of the virus to better ensure the safety of the residents in our homes.